Introduction
Since I own a DJI Mini 2 drone I have had the most fun using it and a thought occurred to me that it would be worth a review in full.
Now, I am not an expert, in fact, I had never flown a drone in my life until this one and I found it so simple to use as a complete beginner.
Originally it was brought to use with my football coaching (check out my article Football and Drones – The Ultimate Guide). There is a DJI fly app that needs to be installed on your phone that just simplifies everything even further and the fact that video images can be taken in 4K and pictures in 12mps, the quality of the pictures and videos coming out of something so small just blew my mind.
---
DJI Mini 2 Specifications
Weight: 249g
Video: 4K/30p, 1080/60p (100Mbps bit-rate)
Photos: 12MP (JPEG and raw)
Speed: Maximum 16 m/s
Distance:
Maximum of 6km
Flight time: 31 minutes per charge
Transmission: OcuSync 2.0 transmission
Dimensions (folded): 131x81x58 mm
---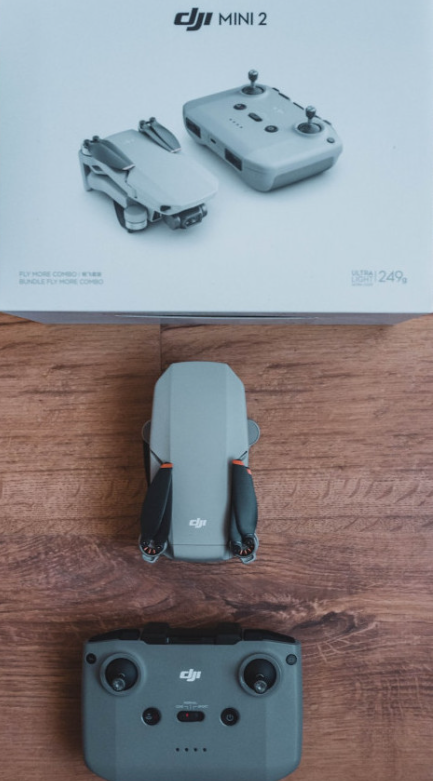 Product
Released in November 2020, this pocket-sized drone is perfect for entry-level beginners looking to capture fantastic aerial view footage.
The Mini 2 offers 4K resolution for quality video, a triple GPS module, 5 Quick shot modes (Boomerang, Dronie, Helix, Rocket, and Circle) for hands-free cinematic videos and 31 minutes of flight time, however, it does lack obstacle avoidance sensors that are apparently equipped on the latest Mini 3. The DJI Mini 2 also comes with an automatic return-to-home feature and has three flight modes which include Normal, Sports and Cine modes.
It is very compact which makes it easy to put into your pocket to carry around and also, due to its size you are able to launch it from your hand.
The Mini 2 weighs approximately 249g, which, even though it is lightweight and portable and falls under the original 250-gram limit, you still need to pass an online exam to fly the Mini 2, register the drone, stick an ID number on it, and pay £9 every year to the CAA for the privilege.
---
Pricing
For most people, it is the price will probably be the most important factor. Having a high-quality drone for less than £800 – £1000 The Mini 2 definitely falls within that category.
The price – is £419 for the base model and £549 for the (justifiably essential) Fly More Combo pack, which includes a carry case, 2 spare batteries (these are £50 each when brought separately) and spare propellers.
For more information Click Here
---
Pros
+ Very easy to fly
+ Light and compact
+ Shoots sensational 4K video and 12mp stills
+ 31-minute flight time
---
Cons
– No active tracking feature
– No obstacle avoidance sensors
– Not waterproof
---
Conclusion
Overall, the DJI Mini 2 has some fantastic features that include a 4K camera, panorama photography and 31 minutes of flight time. This drone can legally fly up to 400 feet but can actually fly higher and has a one-click take-off/landing button which makes this drone perfectly suitable for beginners. I would say this is the best drone in its price range, a great entry-level drone for photography, especially if you travel regularly and need something light and compact.