Have you ever wanted to know some practical thoughts on 11v11 soccer formations and tactics?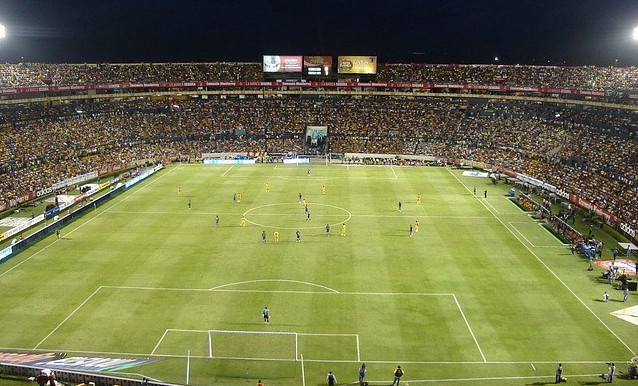 Well, in this article, I will look into the history of formations and when it all began, before exploring in detail two of the most popular formations ever used.
However, before we get started, I wanted you to know why this article came about.
I was delivering a coaching course and a candidate asked me about formations. It was a question I had heard many times before from grassroots coaches.
"My team is moving up from 9v9 to 11v11 next year, what formation should I use?"
My answer to the coach was simple "play the formation that best suits your players, not the formation YOU like to play" e.g., if you have wide players that can dribble and deliver crosses, and strikers that can score from crosses the 1-4-4-2 might suit your team best.
Another suggestion is for coaches in the youngest age group that play 5v5 football. It is worth thinking about the 11v11 formation now.
Play a formation now that is based on the 11v11 game by working backwards, so, what will it look like at 9v9, 7v7 and 5v5? e.g., 1-4-3-3 (11v11), 1-3-3-2 (9v9), 1-2-3-1 (7v7) and finally 1-2-1-1 (5v5).
That way the bulk of the formation stays the same, players will understand their roles and responsibilities better and you just infill players around the original team until you move up to 11v11.
Let's get back to the article.
Introduction
How the outfield players line up is a key element in a soccer team's overall tactical approach to the game. There is no one particular formation nor a precise set of tactics that can guarantee success. However, what they can do is help to maximise the potential of the individual players within the squad.
The type of formation deployed by a team depends on various factors like the abilities of the players at the coach's disposal, the type of opposition being played against, or the preference of the team's manager.
History
Formations are generally fluid and can be changed mid-match, depending on the match situation. Since association football began in 1863 the game has constantly evolved over the years with the various formations and tactics that have changed along with it.
As strange and unthinkable as it may seem nowadays, teams used to line up with attack-minded formations.
The oldest formation recorded was an international game between England and Scotland way back in 1872. England usually played with seven or eight forwards in a 1-1-1-8 or 1-1-2-7 formation, and Scotland with six, in a 1-2-2-6 formation.
It is clear to see that these formations are not balanced and have no focus on defence, resulting in high-scoring games. It wasn't until the early 1890s, that the 1-2-3-5 formation (known as the inverted pyramid) started to gain popularity, as it was a more balanced tactical setup.
During this period of football, the standardisation in players' shirt numbers linked to their positions became prevalent.
When the offside rule was introduced to the game in 1925, teams started to adapt their formations accordingly to combat the rule and it was during the early 1930s that the famous WM formation (1-3-2-2-3) was introduced.
Over time, football formations have become more sophisticated, placing a greater emphasis on defence and having a more balanced methodology across the pitch.
Formations
1-4-3-3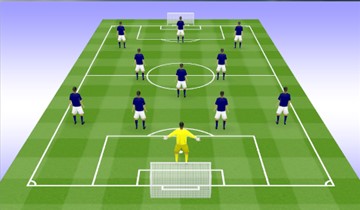 The 1-4-3-3 formation is perhaps one of the longest-serving systems in football and given its record of success. It was this particular formation that England utilised to win the World Cup in 1966, and there is nothing to suggest that it will not continue to influence modern football for a long time to come.
The 1-4-3-3 is one of the most comprehensive systems in football, primarily because the system relies on the three forward players staying up top and providing depth and width in attack.
This formation consists of four defenders, three midfielders, and three forwards and relies heavily on the attacking expertise of the two wide players. These forwards not only provide good width upfront but also act as passing options, if and when the central areas get too congested. Having the option to switch the play to the wide areas, ensures the team can still retain possession and carry on the attack from a different route. The 1-4-3-3 formation is a system that provides the perfect balance between width and narrow build-up play. It is also suitable for short, build-up play and quick counter-attacking football.
However, as with all formations, there are weaknesses within the 1-4-3-3, the main one being here, is that there is only room for one central defensive midfielder which may leave the team vulnerable to counterattacks. As this particular system thrives on exploiting spaces at the back, defending teams will try not to leave gaps behind the defence, so may tend to sit deeper and try to catch you on the break when your team is out of balance.
1-4-2-3-1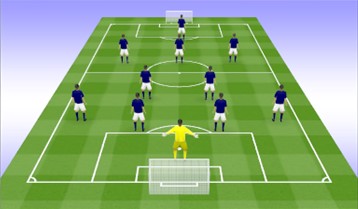 This formation is considered to be the most used system in Spanish La Liga. It consists of four defenders, and two defensive midfielders to give additional protection for the centre-backs. Three attacking midfielders to support the lone striker who will be isolated for most of the game. This striker, therefore, must be strong enough to hold onto the ball and be the lynchpin for the attacking support from midfield.
The 1-4-2-3-1 formation is best suited for teams who want to overload their midfield to outnumber opponents in that department and should be used by teams who have a strong centre-forward. This formation has a lot of flexibility when applied correctly and offers a good balance between attack and defence.
The 1-4-2-3-1 is perfect for absorbing copious amounts of pressure from the opposition and throwing it back in the form of a counter-attack. However, it can also be a 'slow' formation from the perspective of quick, speedy attacks.
This formation also puts a lot of pressure on the midfield and in particular the central attacking midfielder, to assume most of the goal-scoring responsibilities. As previously mentioned this is due to only having one natural striker on the pitch who will be isolated for large parts.
Conclusion
I think it is fair to say and as I have mentioned previously, there is not one formation that is the best and most suited for all situations. It all depends on the circumstances, such as the teams you are playing against, and the situation in the game, or it could just be the formation that best suits the players you have available.
What is important once you have the formation that suits your team or style of play. As a coach, you will need to understand the strengths and weaknesses of that formation in and out of possession to be able to coach your team effectively.
Your players will need to also understand their roles and responsibilities within the formation so they can be comfortable playing in it and also develop some chemistry and build relationships with their teammates.
If you enjoyed this article and have any questions or comments or just wish to share your thoughts.
Please leave them in the comments box and I will respond once I get the chance.